4 Intuitive Languages® – Which is Best?
®

4 Intuitive Languages® – Which one is Best?
Many people who are just beginning to explore their intuition will inevitably ask, of the 4 Intuitive Languages®… "which one is best?". Is seeing Spirit better than hearing them? Or is getting a feeling about Spirit's guidance better than all the others?
The short answer is no particular method of receiving intuitive messages is better than any other. However, there may be a primary way in which you receive your messages specifically because you are unique and you have a certain energetic makeup. Usually that leads us to compare ourselves to others, wishing that we could see like this person or envying how cool it is the way that person audibly hears messages from Spirit. When what we really need to do is claim and embrace the inherent and unique gifts we do have.
Here are the 4 Intuitive Languages® we are talking about…. Which one are you?!?
CLAIRVOYANCE IS THE FIRST OF THE 4 INTUITIVE LANGUAGES®
Sometimes called "Seers', these are the people who see Spirit or the messages Spirit sends come through as visuals of either color, words, symbols or even full visions. If this is not your first primary language you may think this is the method you want most. What has been my experience is that as we begin to open up to our gifts, seeing may be a little jarring at first. If you've even gotten intuitive messages before and all of a sudden you start seeing Spirits in tangible form hanging around you, it could be a little scary, right. Our Guides and Spirit never want to scare us so they may start with a more internal language and build up to seeing as you grow and develop. Whatever language you have now is exactly how you are supposed to receive your messages at this time.
CLAIRAUDIENCE IS THE SECOND OF THE 4 INTUITIVE LANGUAGES®
For "Owls" messages are received through the sense of hearing. They may hear them inside their mind either as their own inner reading voice or the voice of another person. They may also hear messages out loud (like someone is speaking to them).
CLAIRSENTIENCE IS THE THIRD OF THE 4 INTUITIVE LANGUAGES®
For people whom Clairsentience is their primary intuitive language

®

, they feel messages from Spirit. This type of feeling is defined most like a sensation in the body. For example if you are looking for guidance on a specific question and all of a sudden your body feels very heavy or you feel inexplicably tired out of nowhere when thinking about that question, those all could be examples of a NO response. Conversely, if the thought of that question causes butterflies in your stomach or a very expansive sensation in your chest area, those could be examples of a YES response. If you think this is your language and you're afraid you won't be able to tell the difference between a message versus a typical feeling of nervousness or excitement, that is definitely a skill that can be learned as you practice receiving messages over time.
CLAIRCOGNIZANCE IS THE FOURTH OF THE 4 INTUITIVE LANGUAGES®
Claircognizance is a "clear knowing". "Channelers" have a direct connection with Spirit where messages are simply just "known". If a thought pops into your mind that answers a question you've been pondering or you answer a question for someone else with words that just pop out of your mouth without conscious thought and you have no idea where that came from, those are examples of clear knowing or Channeling. Claircognizance may also show up in how your body reacts. An example would be when you're driving your car and you turn left when you normally go right and you're not sure why as you didn't consciously decide to make the turn. Or maybe when someone asks you a question that makes you really excited for an opportunity and you realize your body leaned forward as they were talking without you having any voluntary intention for it to do so. This could be a channeling of the answer yes. The same is true when your body "knows" the answer should be no. When someone is discussing a topic with you and asking your opinion of trying to get you to engage and you suddenly out of nowhere feel very tired or heavy, that could be a "knowing" in your body that the topic does not resonate well with you.
Although no one language is any better than another…
IF YOU ARE CURIOUS ABOUT WHICH IS YOUR INTUITIVE LANGUAGE
®

…
TAKE OUR FREE QUIZ AT MESSENGEROFSPIRIT.COM/QUIZ
Wanna know the primary way you get messages from Spirit? Take our "What's Your Intuitive Type? Quiz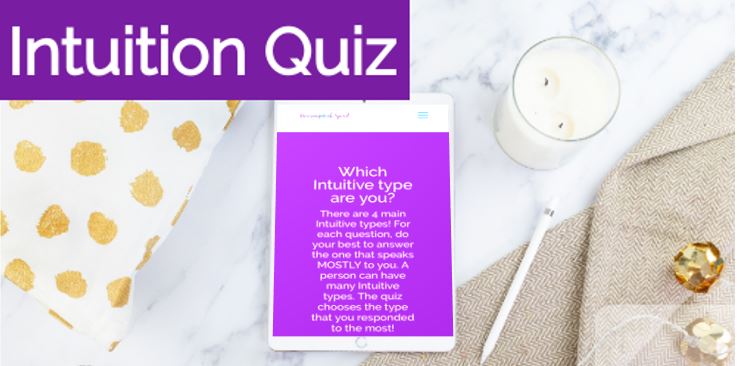 Please follow and like us: