What Happens When My Name Is Being Called
®

What Happens When My Name Is Being Called
This is a question I get from my students quite frequently. What happens when my name is being called? This phenomena typically happens when you're falling asleep, just waking up, or engrossed in a daily mundane activity (like cooking, cleaning, or even driving). This a very common type of intuitive hit.  It happens because the thinking brain is occupied at the moment, or turned off in some way like relaxing or sleeping, therefore allowing the mind to be clear for your intuition to come through. If you're hearing your name being called, your primary intuitive language

®

could be clairaudience and you're what we loving call an Owl. If you're not sure of your intuition type, I invite you to take our quiz at messengerofspirit.com/quiz to find out.

When Your Name is Being Called, ASK WHO IT IS.
Pay attention and ask who is calling your name. Is it a Spirit Guide trying to get your attention? Is it a loved one in spirit saying hello? Ask "Who is trying to give me this message?". Set the intention to find out more about where this message is coming from.

When Your Name is Being Called, CREATE BOUNDARIES.
If you feel the message isn't coming from someone you want in your space, like a Guide or trusted loved one, then talk to your Spirit Guides about creating and enforcing healthy intuitive boundaries. You are always in control of who is allowed in your energetic space. If you only want to receive messages from your Spirit Guides then let them know so they can help you enforce those rules. We all have Guides that specifically teach and protect us.  They will help you execute the spiritual and energetic boundaries you need to set for a healthy intuitive life.
When Your Name is Being Called, BE CONSISTENT WITH YOUR INTUITION.
Creating a practice and being consistent about connecting to your intuition can reduce the need for your Guides to "get your attention" by calling your name. If you're not setting aside a specific time to tune in and listen to your intuition your Guides may need to resort to getting you to listen in some other way. Therefore, setting aside only 5 to 15 minutes a day can be helpful in opening up your intuition to allow more of the conversation to come through consistently.

INTERESTED IN LEARNING MORE ABOUT YOUR INTUITIVE LANGUAGE
®

?
Wanna know the primary way you get messages from Spirit? Take our "What's Your Intuitive Type? Quiz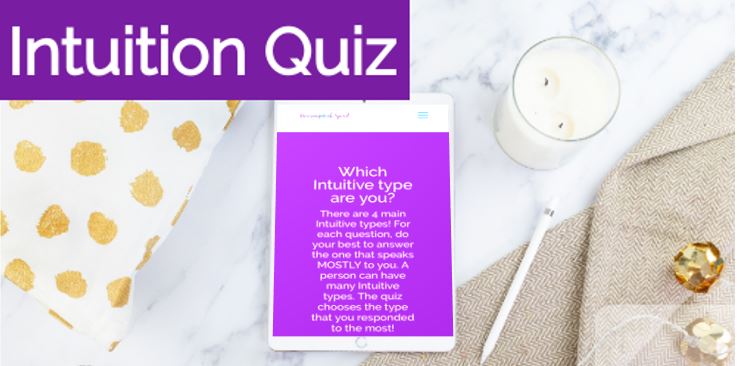 Please follow and like us: