Spirit Guides in Your Business & Life Purpose
Spirit Guides in Your Business & Life Purpose
Spirit Guides are helpers in spirit who guide us, teach us, and protect us in our daily lives. So it only stands to reason Spirit Guides would be involved as we move toward living our purpose through what we do, whether we work for someone else or start our own business. For those interested in intuition and developing their intuition, they can get extra Guides that help specifically in that area. If that sounds like you then save the date for our upcoming free 5 Day Intuition and Abundance Challenge starting May 17th. Email invitations will start going out next week.
Spirit Guides can PROVIDE OPPORTUNITIES in Your Business & Life Purpose
Guides help open up and move us into new aligned opportunities for our business and life purpose. Many times we get presented with opportunities where our Guides may not give us any particular guidance because there really is no right or wrong direction. The decision is completely up to us as to how fast (or slow) we want to move through that particular cycle in our lives. Every relationship, business shift, everything in our life is a cycle. When we feel the decision is 'yes' we move forward with our business and life purpose thereby speeding up that cycle as we bring it more into alignment. When we feel the decision should be 'no' that is your Guides letting you know, through your intuition, that it was not a supported opportunity for you. This is how they help us in our lives and can help in business as well. If you have a calling to live your life purpose by making it your career, you'll probably attract specialty Guides in that specific vocation. Then you begin to realize you have this whole team of helpers around you, supporting you and advising you.
Spirit Guides HONOR YOUR INVESTMENTS in Your Business & Life Purpose
Maybe your next step is that you need to make an investment in your business to foster growth. That can be a scary decision, not knowing how or if the investment will pay off. Whether the investment is time, money, training, or more staff it's an investment of your energy. By putting that energy out there, even through all the nerves, our Guides honor it and present the opportunities that investment can open up. It then, again, comes back to us to determine if that opportunity is in alignment in the direction of our purpose. If your intuition doesn't tell you right away, first wait about 3 days to see if a direction comes to light. If you still don't feel clearly to move forward one way or the other, most likely there is no wrong and you'll be supported regardless of your decision. You need to decide if you are ready to speed up that particular cycle in your business & life purpose or if you need to delay in that cycle just a bit longer.
Spirit Guides RESPECT YOUR PACE in Your Business & Life Purpose

Our Spirit Guides are our helpers. They are not there to dictate what we should do, but to provide guidance and support us in our decisions as we try to do what is right for our business and life purpose. Maybe the answer IS no to a particular opportunity right now. That doesn't mean it will be no forever. Everyone grows at their own pace. Growing by leaps and bounds can be amazing, but after those quantum leaps in that cycle you may need time to acclimate to that new level and speed. Our Guides are there to tell us, that's ok. They are ready when we are.
Spirit Guides are INTUITIVE PARTNERS in Your Business & Life Purpose
Intuition is the channel through which our Guides give us messages. It is our part to figure out how that works with our unique energy signature so we can receive those messages clearly. If you want to know more about how you receive your intuitive messages, you can take our free quiz at www.messengerofspirit.com/quiz to find out your particular intuitive language®.
We all have personal, teach, and protector Guides. Some communicate with theirs more openly and more often than others. Our Guides are always there to help us whether in life in general or in our business and life purpose specifically, we just need to communicate with them. But remember, there are 2 parts to communication. We can talk to them and ask them for help, but we also have to listen to what they say. That can be the hardest part and is where knowing your intuitive language becomes so important.
SAVE THE DATE!! Our INTUITION & ABUNDANCE CHALLENGE starts MAY 17th. Invitations will go out next week. If you're not on our email list, you'll be signed up automatically when you take the quiz!
IF YOU ARE CURIOUS ABOUT DEVELOPING YOUR INTUITIVE LANGUAGE

®

…
TAKE OUR FREE QUIZ AT MESSENGEROFSPIRIT.COM/QUIZ
Did you take the 4 Intuitive Languages® Quiz?   Discover your Intuitive Language right here.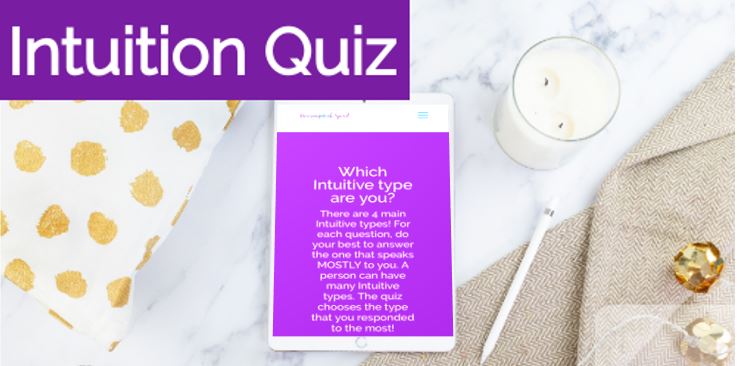 Jump on the waiting list for Intuition Abundance Academy™ right here.
Please follow and like us: