How Do I Know My Spirit Guides Are Around?
®®

How Do I Know My Spirit Guides Are Around?
Spirit Guides? What are Spirit Guides, you may ask, and how do I know if my Spirit Guides are around me? Our Spirit Guides are our helpers on the other side. They are our own special team in spirit that guide, teach, and protect us. Our Spirit Guide team typically communicates to us through our intuition. Most of our intuitive information comes to us from our Guides (although it can also be from our Higher Self or Loved Ones in Spirit as well).
When we question things in our lives like "What is my life purpose?" or "Is this the right move to make in my career?" , our Guides will create opportunities for us to learn in these areas and they communicate them to us through our intuitive language

®

.

If you don't know what your intuitive language

®

is, you're welcome to take our quiz at MESSENGEROFSPIRIT.COM/QUIZ

Here are several ways to know your Guides are around:
YOUR SPIRIT GUIDES ARE AROUND WHEN YOU ASK AND INTEND
When you ask for your Guides to show up, they WILL arrive. Whether you ask out loud or with your inner mind's voice, the intention will be the same and they will respond. Then align to your intuitive language

®

so you can perceive their presence and receive their messages.
YOUR SPIRIT GUIDES ARE AROUND WHEN YOU HAVE INSPIRED THOUGHTS
Our Guides can send us guidance or answers to our questions in the form of thoughts or ideas. We may even feel like it's our own thought and that is ok. Usually when something just 'occurs' to us and feels like the right answer, it is inspiration provided by our Guides on our behalf.
YOUR SPIRIT GUIDES ARE AROUND WHEN YOU SEE UNEXPLAINED FLASHES OF LIGHT
If your intuitive language

®

is seeing (or clairvoyance) you may see quick flashes of light in your peripheral vision, especially when you're in a dimly lit area. These flashes can be Spirit communication with you or trying to get your attention.
YOUR SPIRIT GUIDES ARE AROUND WHEN YOU FEEL THEIR ENERGY
For people who feel their intuitive messages (clairsentience), they may experience sensations of pure love, feel supported but not by anyone or anything in particular, or they may simply get that sense of 'you are not alone' out of nowhere. All of these may be their Guides communicating with them in their unique way of understanding.
YOUR SPIRIT GUIDES ARE AROUND WHEN YOU HEAR THEIR MESSAGE
People who can hear messages from Spirit (clairaudient) may hear a word spoken when no one is around. They might hear a word or phrase inside their mind either in their own reading voice or even a voice they don't know. This is how their Guides would communicate to them through their particular intuitive language.
YOUR SPIRIT GUIDES ARE AROUND WHEN YOU ASK FOR SIGNS
The more you ask of your Guides the more they assist. Sometimes they will give you signs of their presence, again the signs will show up via the path of least resistance which will be through your intuitive language

®

. Seeing flashes of light, certain animals in unexpected places or doing unexpected things, even slight electrical issues can be signs your Guides are near. Seeing repeating number patterns like 11:11, 111, 222, 333, 1234, etc. is one of the ways Guides can communicate their presence to Channelers (people how have the intuitive language

®

of claircognizance – "clear knowing").
YOUR SPIRIT GUIDES ARE AROUND WHEN YOU DREAM
Very vivid or intense dreams that you remember can be signs of an astral visit from or astral travel with your Guides and Teachers.
Your Guides are around more than you think. The key to receiving their guidance clearly (regardless of your language type) is to cultivate a meaningful relationship with them. Meet with them and talk to them every day. Just as in any relationship, communication is key. Although they can hear our intuitive thought, they do not read our minds. They only hear the thoughts we intend for them to pick up. So taking a short time each day to develop a deeper connection with your team will serve to strengthen how you receive their messages. The more you view your Spirit Guide team as a real presence in your life, the more evidence you will see of them.
IF YOU ARE CURIOUS ABOUT WHICH IS YOUR INTUITIVE LANGUAGE
®

…
TAKE OUR FREE QUIZ AT MESSENGEROFSPIRIT.COM/QUIZ
Wanna know the primary way you get messages from Spirit? Take our "What's Your Intuitive Type? Quiz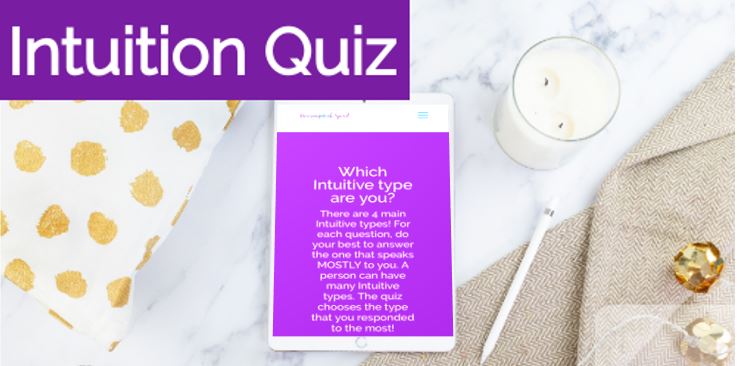 Please follow and like us: