Reiki Master Series in Sedona
Enjoy the view of Red Rocks while learning Reiki.
Usui Reiki Master (Level III) & Master-Teacher (Level IV) Certification Class
(Upon completion for class, you will receive a Reiki Master-Teacher Certification.)
When:
October 12-14, 2017
10:00am – 6:00pm each day.
(We will break from 12-2pm for free time outside the facility.)
Location:
31 Bell Rock Plaza, Suite A
Sedona, AZ 86351
Cost:
$888 / student when you register by end of day October 3, 2017.
*Registration Required. Please see prerequisites below.*
The Reiki Master-Teacher class is a commitment to Reiki & a lifestyle. The energy is raised higher than previous levels. Students will receive a Reiki Master-Teacher certificate upon successful completion of class.
This 3 day course will offer :
Clearing the aura;

Cutting energy cords;

Clearing oneself of negativity and others;

Constructing a Reiki Crystal Grid (students are responsible for these materials. A list of supplies needed will be sent upon registration);

Sending Reiki through the eyes;

Exploring past lives;

The three pillars of Reiki;

Advanced information about Usui and chakras;

Ancient techniques;

Additional meditations;

Students will be attuned to 3 Reiki Master symbols passed down in our lineage;

Information about other symbols are provided while developing your relationship with Reiki at this new level;

Healing & Teaching techniques;

Learn how to attune students in the Usui – Tibetan tradition;

Learn 5 different Attunements;

We will go over the mechanics and structure of conducting a Reiki class.
Views from the Classroom & Office: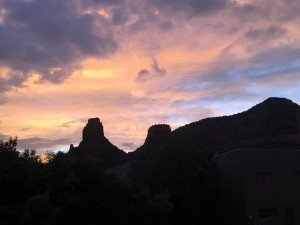 Things you need to know:
Students are responsible for their own Reiki Crystal Grid materials. A list of supplies will be sent upon registration.

The classroom is located within a short walking distance of popular Sedona restaurants – one just a few feet away!

We recommend you bring a pencil and paper, and water to stay hydrated.

Meals & Lodging are not included, however we will be happy to assist you with recommendations and information for your stay!
Prerequisites:
Reiki I & II Certification in the Usui/Tibetan tradition, minimum age 18, the student must be in a place where he or she can devote a lot of time to the study of Reiki and have complete understanding of Reiki I & II.

We accept students from all Usui / Tibetan lineages. Those with different lineages may need to provide a copy of their Reiki II Manual and Certificate, and may be required to audit Reiki I and Reiki II.*

Students must commit all symbols learned from Reiki II to memory prior to attending class.

(Student must provide Reiki crystal grid materials which will be discussed at the first class, and instructions can be sent to students upon registration. All other materials are provided.)

Registration Required:

Register Here Online to confirm your space in the class. You can also contact us by email, send a form online, or alternatively by phone 520-775-2598 * Alternatively, we can send an invoice by email, credit card by phone or in-person.. Please review our cancellation policy prior to registering. 

*Cancellation prior to 60 days before start date of event, class, or program, registrant will receive 50% credit applicable to Messenger of Spirit, LLC  events, classes or programs valid for 180 days from issue date. Cancellation for any reason within 60 days of the start date of class, event, or program is non-refundable and not subject to credit.
Facilitator Bio:
Whitney McNeill
Whitney is a Reiki Master-Teacher & Certified Medium. Her journey with Reiki started 10 years ago, after she had a powerful physical, emotional, mental, and spiritual healing. Her passion is to teach and help others, through many different metaphysical topics, so that students may come to know their own inherent abilities.
Tentative Schedule:
10:00am-12:00pm – Program

12:00pm – 2:00pm – Break for Lunch

2:00pm – 6:00pm Program