JOIN THE WAITING LIST FOR
ALIGNED SPIRITUAL MENTORSHIP

For Current Students & Alumni of 4 Intuitive Languages®,
Intuition Abundance Academy™, or Spirit Guide School™.
Important question for intuitive, spiritually ambitious souls who want to *truly* live their purpose and take their intuition, manifesting, abundance, and purpose to the next level…
If you could receive the accountability, spiritual support, mentorship, and divine guidance to
create epic success in your life, business and beyond…
What would hold you back from living and manifesting the life of your dreams with pure confidence?

I'm Whitney and I would love to help you step into greater alignment and consistently support you in 
taking aligned action towards your goals, receiving intuitive clarity, removing blocks on your life purpose, and manifesting abundance.
I have a feeling that you're *always* down for a quick mini-meditation — so let's visualize this, together…
Can you picture a life where you…
Feel like your career is exactly where you're meant to be (and you know you're aligned to your life purpose)…
Connect with your Spirit Guides daily (without self-doubt standing in your way) to receive the answers you need…
Manifest the opportunities and relationships that you truly deserve with ease and intention (and they work out exactly like you'd imagined)…
Have a consistent routine for spiritual maintenance that holds you accountable to elevating your growth (with a crew of spiritual souls who totally get you)…
Reach your next level goals by raising your vibration and waving buh-bye to fear and unworthiness as it fades into the very distant past…
Receive clarity and connection from your intuition…
And most of all, give yourself permission to express yourself authentically in a safe space that embraces you and all your innate, intuitive gifts (without ever calling yourself "weird" ever again)…
…So that you can maintain spiritual momentum, bust your blocks, and finally trust your intuition again?
HECK YES, WHITNEY! Can we manifest this??
Open your eyes…
And take a second to sit with what we just dreamed as possible for you.
Now, exhale.
This wasn't just a visualization exercise for a far-off, future version of you.
*That* person who knows they are…
CONFIDENT in who they are and how they want to serve in the world
GIFTED
with intuitive abilities that need to come out to play
WORTHY of playing bigger and saying YES to more of what they truly desire
… That person is closer than you think.
And they have been ready to arrive for a *long* time.
You've read the books on Angels and Spirit Guides and bought the oracle card decks… 
You might have felt truly aligned at some point in your life, but you can't figure out what's been getting in your way of feeling that way consistently… 
You've taken the courses, meditated your heart out, talked to your Spirit Guides, and received Reiki sessions…
So, why haven't you found a way to
stay

aligned on your path and to your next level success?
Well, after being a spiritual teacher and psychic medium for the last decade — I can tell you that while all of the above can help you experience temporary relief and spiritual joy, they simply aren't enough to…
SHIFT your vibration to the next level (no amount of single Reiki sessions will help you heal *everything*)
GUIDE you towards your unique path through a spiritual lens (and implement everything you might have learned until now — minus the overwhelm)
MOVE your inner self through the discomfort it needs to truly grow through every transition (yep, we have to realign our energy consistently throughout our lives — it's not a one-and-done trick!)
And after mentoring spiritually ambitious people like you through 1:1 readings (which I no longer offer anymore), multiple group programs and more…
Even though EVERYONE has the potential to align their energy, grow spiritually, enhance their intuition, connect more fully to their Higher Self, and manifest amazing opportunities…
Few people ever take the time for self mastery.
Because while anyone can TRY to align…
… Being able to sustain their high vibe and move to the next phase of spiritual growth is a different story.
What we *all* need is an opportunity to maintain momentum in our spiritual growth and dive deeper into this work as we evolve, with accountability and mentorship.
(P.S. Since you'll find out quickly that I keep it pretty real over here — even spiritual teachers like me are constantly working on themselves to stay aligned on their path!)
And as long as you create space for your growth and believe that you are worthy of holding space for your spirit — then your path is paved.
Which is exactly why I created a spiritually-driven group mentorship program for people like you who KNOW they owe it to themselves to live their truth and let their soul step into the spotlight. You are ready to move past fear and the old stories you've told yourself about why you couldn't get to the next level.
With your permission, I would LOVE to show you how to do just this.
Your Higher Self will thank you for joining…

A high-level monthly group mentorship program for spiritually ambitious souls who want to strengthen their spiritual support system, activate lasting transformation, implement their spiritual gifts in the real world, and create epic success in their life, business, and beyond while finding freedom in accepting who they're truly meant to be…
…By keeping you on track and aligned to your intuition, manifesting, abundance, and purpose every single week through mentoring, hot seats, live training, real time live intuitive partner exercises, and live Q&A sessions!
Apply to join Aligned and get access to…
THE ALIGNED FOUNDATION SUCCESS PATH
Understand and identify which phase of spiritual growth you're in! You'll get instant access to our core program that will keep you grounded and focused on how to move forward along your unique success path.
This program helps you:
Choose one goal to focus on as you shift your vibration 
Identify which phase of the cycle you are in
Take concrete action steps to help you move through to the next phase with a downloadable guide
Keep yourself Aligned and take action steps with our:
ALIGNED SUCCESS PATH TRACKER
Log your aligned actions towards your life purpose, manifesting, abundance, and intuition in our renewable and downloadable Aligned Tracker. Customize and choose your daily, weekly, monthly, or yearly goals.
This tracker helps you:
Set your intention in your life purpose, abundance, manifesting, and intuition. 
Reflect on your progress so you bring more of the positive into your vibration to attract more opportunities!
Allows you to customize your tracking schedule to fit your own needs and cycles.
WEEKLY LESSONS & EXERCISES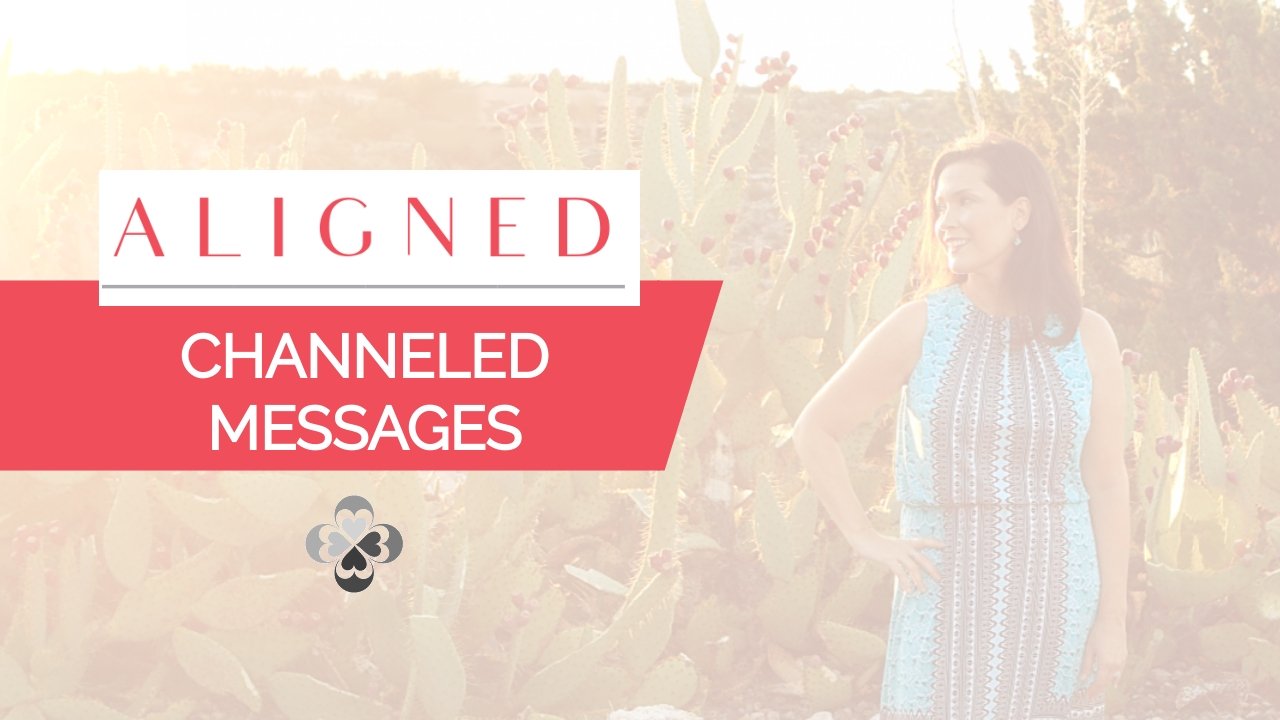 Week 1: Channeled Messages From Spirit
The first week of the month, receive channeled messages from Whitney's Spirit Guides about the month ahead!
Navigate the collective energies for our group and you use your intuition to tune into the message that's meant for you!
Watch the channeled message as a video in your member's area
    All experiences are recorded
Week 2: Group Mentorship & Hot Seats With Whitney
Your safe space to get *real* spiritual. Show up for our LIVE hot seat sessions to receive 1:1 mentorship from Whitney to help you remove blocks, obstacles, and clear your path to alignment.
Apply for a hot seat to get 1:1 mentorship from her spiritual lens as a spiritual teacher and from her Spirit Guides in a group environment. Feel blocked in your business, purpose, relationships, or something else? Bring it to the table to clear it.
See other member's live in real-time on video! 
Gain value in learning from your fellow members' unique challenges and experiences
    Sessions will be recorded if you are unable to show up live.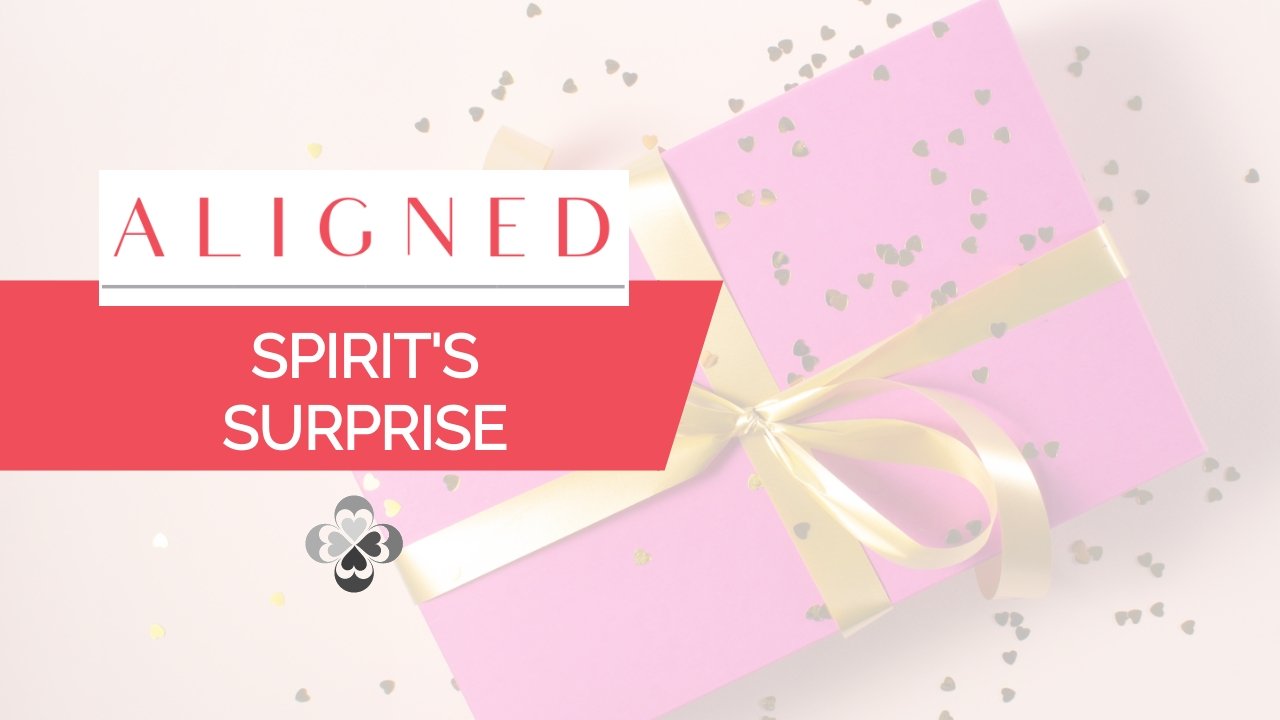 Week 3: Spirit's Surprise
Oooh, what to expect? That's between Spirit and I until you join — this is the week you'll receive a new spiritual tool to help you align.
This might be in the form of an expert interview, live workshop with Whitney, or intuitive play day – where you'll enjoy virtual breakout sessions with partners to practice your Intuitive skills!
Enjoy live and prerecorded experiences 
Experience an Intuitive Play Day once a quarter to strengthen your intuition and connection to your Spirit Guides (and get introduced to mediumship, too!) 
Learn from our handpicked guest experts on everything from dream interpretation to hypnotherapy — the learning is endless 😉 
Interact with Whitney in quarterly LIVE workshops!
    All experiences are recorded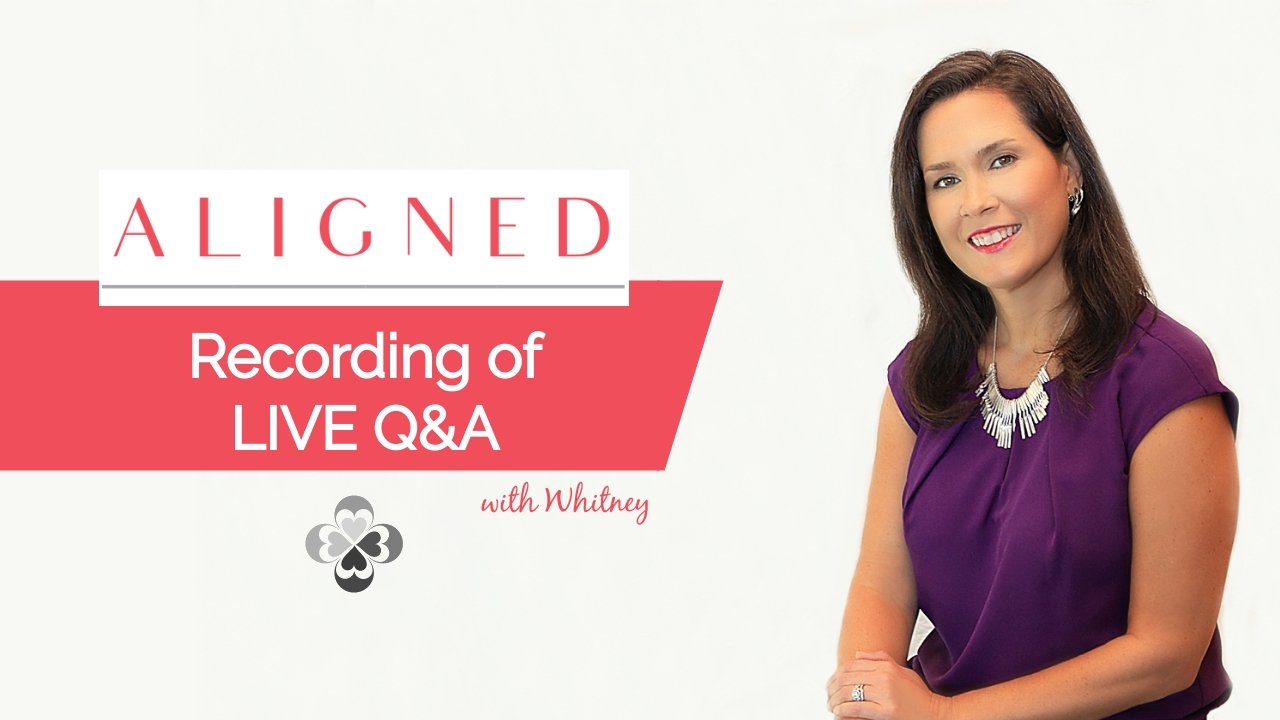 Week 4 : In-Depth Q&A Session
Got questions about intuition, Spirit Guides, removing blocks, manifesting, mediumship, or your entrepreneurial journey?
Submit your questions throughout the month and get them answered directly by Whitney in our LIVE session.
Receive personalized support about your spiritual growth, intuitive abilities, energy, mindset, and business
Don't worry if you can't show up live — I'll answer your questions regardless. They're recorded and uploaded into your member's area for you to watch later.
MONTHLY THEMES & PRINTABLE AFFIRMATIONS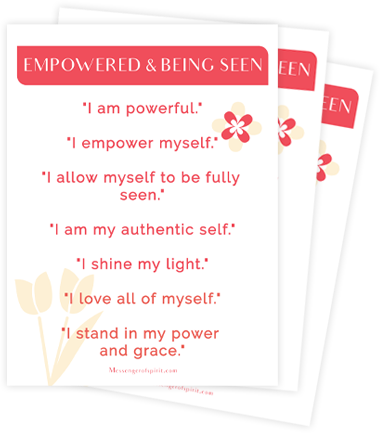 Receive a new theme every month to reignite your focus and make your spiritual growth fun (because it is!). Examples of monthly themes our group has worked through in the past include releasing and letting go, being seen, magnetizing your manifestation and more. Every theme is carefully chosen with Spirit to support you in the 4 Pillars of Alignment: Intuition, Manifesting, Abundance, and Purpose.
Access a new monthly theme to channel your energetic focus
Shift your energy with affirmations! Customize them or use them as prompts
Manifest your goal by printing your affirmations and placing them in areas of your home so you won't forget to say them with feeling, intention, and focus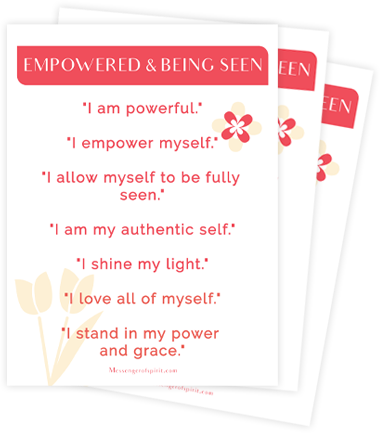 MONTHLY CHANNELED & ENERGY-INFUSED GUIDED MEDITATIONS
Every month, you'll receive a new Spirit channeled, energy-infused guided 20-minute meditation in alignment (obvi) with our monthly theme from Whitney.
Tap into this meditation to strengthen your manifestation, intuition, purpose, and abundance
Access this channeled, energy infused journey anytime you need to relax and let your intuition flow
PLUS, THESE EXCLUSIVE BONUSES…
aligned SPIRIT CIRCLE EVENTS
($597 Value)
Join us for a Spirit Circle live on Zoom once per quarter to increase your sensitivity to your Spirit Guides, Loved Ones in Spirit, and intuition. You might receive a message from someone else in the circle, too!
Accountability Program
($497 Value)
Hands down, one of the biggest experiences I've had to catapult me to new levels of growth were (and are) accountability groups.
Meet with Aligners virtually, near and far, and create or join an Aligned accountability group.
We've designed a guide to help you along the way, and we've created a hub to input your information so you can easily connect with other Aligners.
member of the month thru 2022
($497 Value)
We will select a member of the month for a 15 minute private chat with Whitney on Zoom.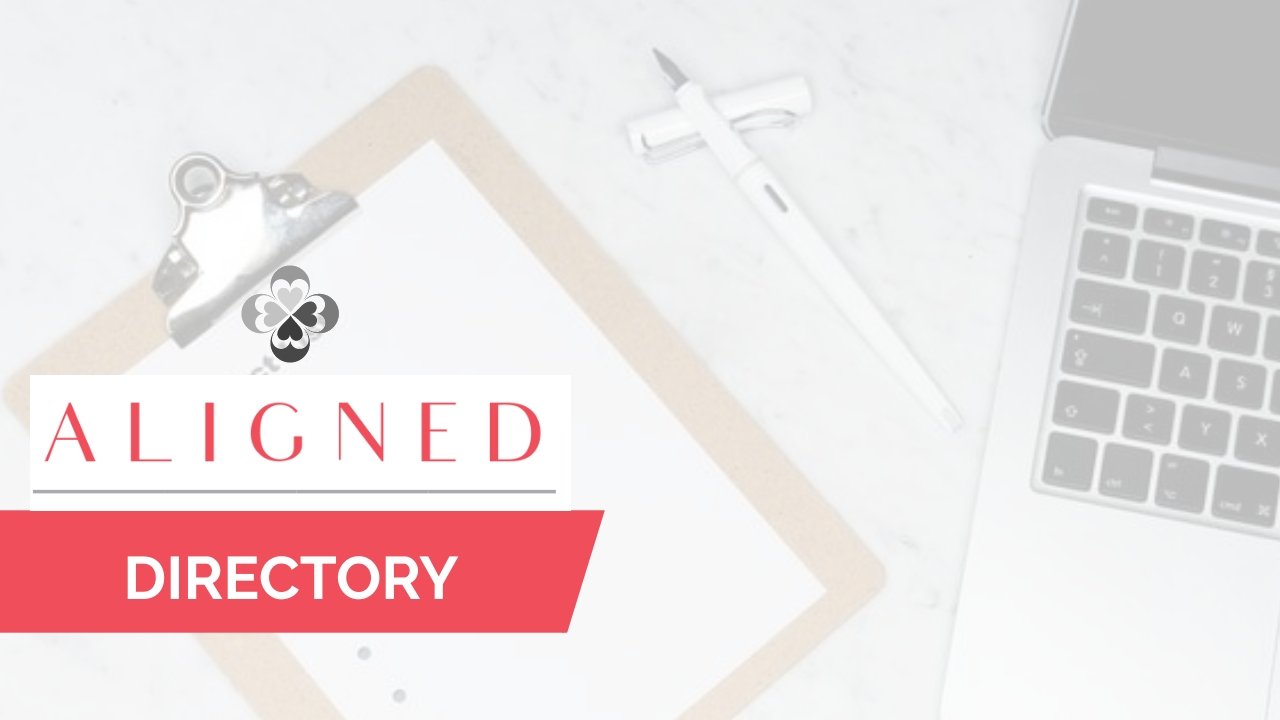 aligned directory
($97 Value)
If you're a spiritual practitioner (or looking for one), list your info inside our Aligned directory so other members can easily find your services or products (and they can find you, too!)
Private ALIGNED Facebook Community
($497 Value)
The #1 complaint I hear over and over again from students is they don't have anyone that really "gets" what transformations they're making in their lives.
Well, here ya go — I've created a community for you, so you don't feel so alone out there! In the group, you'll get the opportunity to connect with conscious women of all different ages, backgrounds, and experience.
Members are there to help, support, and motivate each other in this program. FINALLY, a group of people that "get you."
Phew, that's *a lot* Whitney — I'm in!
SPIRITUAL GROUP MENTORSHIP: A HIGH-LEVEL MASTERMIND-LIKE EXPERIENCE FOR A MEMBERSHIP PRICE
Heads up: The price will be going up. Lock in your price at this rate. As long as you stay an active member, your price will never go up!
Why is
ALIGNED

*the* ultimate key to awaken all your possibilities, when you've been seeking deeper answers for so long?
Well, no other program gives you the opportunity to…
Hone your intuition through intuitive play days — this is where you'll take the knowledge you've learned thus far with your intuition, and move into virtual breakout groups to receive validation while honing and increasing your Intuitive skills with partners! 
Get weekly guidance and mentorship from a spiritual teacher – we're in this together, and I will be showing up live on the regular to answer all your questions and support you. (This is the *only* way my community will receive 1:1 access to me.)
Implement what you learn and receive accountability for your spiritual maintenance – this is a safe space that believes in your highest potential and encourages you to activate alignment, manifest on repeat and increase your understanding of the spiritual world with access to Whitney, monthly guest experts and a conscious community who know *exactly* what this journey feels like.
"ALIGNED will completely change your life."
Before I joined Aligned, I was a mess — I felt confused about what my life held for me and what it all meant… And what my path looked like. But after learning about my spirit guides and going deeper into connecting with them — I talk to them everyday and can communicate without any blockages!
It's been a complete turnaround and it will completely change your life. Aligned lets you take your time learning from it and you can always come back to it when you need it. Now, I feel so confident, excited and deepened into alignment.
– Lisa Hoover
And here's what you'll *really* get out of joining
ALIGNED

:
FINALLY, FREEDOM to start *new* cycles of growth and shed old patterns that have kept you stuck (I see you, unhealthy relationships!)
ENERGY SHIFTS from low to high-vibration within and around you — because true transformation can only happen when we're activating from our Highest Self (no point overwatering an old plant, am I right?)
CONFIDENCE to trust in your innate intuition, lean into your sensitivity as a strength and connect to spirit… Knowing that we have to get uncomfortable in order to *truly* get comfortable with who we desire to be (all self-proclaimed hot messes are welcome here)
CONSCIOUS COMMUNITY when we rise together, we're (soulfully) stronger — and you'll be evolving in the company of positive, supportive people who are raising the spiritual roof, together (world, watch out!)
So, are you ready to LIVE to your fullest potential, activate guilt-free change and simply feel more…YOU?
If you can imagine fully living in your purpose (whether it's starting your dream spiritual business or finding the *perfect* job), manifesting that dream luxury apartment (or dream house, horse ranch — dream it and believe it), speaking with spirit on the daily (all you gotta do is dial your intuitive hotline), finding your voice and knowing *exactly* when you're out of alignment (with access to the tools to help you move right back into your Highest Self — what a relief!)…
I'd be honored to be your spiritual mentor to guide you along this journey — because spiritual growth is better with besties, right?
Your success path starts HERE…
Apply for

 ALIGNED 

today and receive
:
The Aligned Foundation Success Path Modules: Understand & Identify Your Unique Phase of Spiritual Growth  
The Aligned Success Path Tracker: Hold yourself accountable, set your intentions, reflect, and take action towards your life purpose, abundance, manifesting, and intuition.
Weekly Exercises & Lessons: Channeled Messages, Group Hot Seats, Spirit's Surprise Sessions (Guest Experts, Intuitive Play Days, Extra Hot-Seats), Live Q&As 
Monthly Themes & Printable Affirmations: A New Spiritual Focus & Affirmation To Keep You Grounded 
Monthly Guided Meditations: Channeled, Energy-Infused Meditations To Strengthen Your Monthly Spiritual Focus 
Access to Whitney during the live sessions! (Value: Priceless. Whitney doesn't take private appts.)
BONUS #1: Private Aligned Facebook Community ($497 Value) 
BONUS #2: Accountability Program Group and/or 1:1 Partner ($997 Value)
BONUS #3: Listing/Access to the Aligned Directory ($97 Value)
BONUS #4: Access to Previous Months inside Aligned ($1500 Value)
BONUS #5: Group Spirit Circles 4 times a year! ($597 Value)
UPGRADE YOUR VIBRATION, UPLEVEL YOUR LIFE

If we haven't met at a crystal shop in Sedona before…
Hey, I'm Whitney — spiritual teacher and mentor, dog mama to my dachshund Ranger and *unofficial* pro chili vegan chef in my household…
And ooof — the road from a job I dreaded to teaching souls like you (the best job in the world) has been sh*tty, soulful, and spiritual all at once…
(Here's the trailer: it serves up a real lesson in what happens when we let fear hold us back from finding our way through the fog.)
I'll back up a decade ago when I was…
Drained from my 60-hour workweek helping someone else fulfill their dream
Stuck in my destined-to-fail marriage 
Suffering from mysterious health problems 
Giving ALL my energy away to negative and needy people 
I felt lost, confused, and stuck in the same hamster wheel cycle, not sure how to get to the next step.
And naturally, I just couldn't see the higher perspective at the time.
But as an empath, I *knew* something had to change.
Find my life purpose and start a career I loved 
Have a direct line of Spirit Guidance and support, so that I knew what the next right step was on my path 
Learn how to conserve, protect, and manage my empathic ability while at the same time, open my Intuition.
So I took every step necessary to do exactly that — committing wholeheartedly, even though it freaked me out inside.
After developing my intuition with the support of training and mentorship (having someone to ask all your woo questions and receive guidance to get next steps = priceless) to understand and trust messages from my spirit guides…
I finally stepped into my *own* sense of alignment, which led to…
Leaving my job and starting my own successful, 6-figure business (even though everyone around me thought I couldn't)
Living my life purpose — to serve souls like you — and I've helped 10,000 students and clients connect to their spirit guides (no biggie) and cultivated a community of 30,000+ seekers
Finding my life partner — even when I wasn't seeking a relationship (thanks for guiding him to me, Spirit!) — and totally gets my "woo" side
Multiple visibility opportunities — I became a Certified Medium, taught in Lily Dale, New York, spoke at the Illuminate Film Festival, had my own radio show, and have had articles published in OMTimes (I'm famous! Just kidding.)
Finding support from like-minded community, personally and professionally, who have challenged me to rise higher than I thought possible
Serving from a full cup instead of feeling like a straw sucking away at an empty cup, trying to scrounge up drops of energy (because my guides send me opportunities in alignment with my path)
And most importantly, getting ALIGNED helped me say HECK YES to the things that light me up and NO WAY to the things that don't — even when they're scary AF.
That's exactly why I created ALIGNED — because I know what it feels like to sabotage our goals with fear…
And what's possible to attract into your life when your energy, thoughts and emotions are aligned to attract opportunities at a higher vibration for you.
More than anything, when you have the tools to empower yourself — instead of seeking answers outside of your intuition (oracle decks and 1:1 psychic readings will only get us so far) — your potential for catalyzing conscious change is unstoppable.
Well, my life has shown me that aligning our external world, has a lot to do with our internal world. We can either follow our Ego and get out of alignment, or follow our intuition and get into alignment with our purpose, path, and direction
That means even if you consider yourself spiritually "advanced"…
…You may be wondering why you're feeling stuck in the same cycles, in environments that leave you feeling drained and depleted.
Been there. Felt that. Not fun.
Honestly, it's because there is *always* work to do to uplevel your life and every transition we move through doesn't always apply a spiritual lens.
That's what the intimate community in ALIGNED helps you do 😉
If you're chasing spiritual growth, getting aligned means being able to speed up that timeline… Even when you want to slow down!
You don't need anything besides a spiritual foundation, your unique gifts and a willingness to grow in order to tap into your highest alignment.
But you don't have to take it from me.
Here's what students inside the ALIGNED mentorship are saying…
Get in touch with the REAL you, like Chandra…
"Uhh, alignment whaaat?" ← that's exactly how I felt before this mentorship. I had just finished the 4 Intuitive Languages (inside Intuition Abundance Academy) and was beginning to develop a personal relationship with my guides (baby steps!) when I joined this program. I'd already taken multiple programs with Whitney before, knew she was an *amazing* teacher and I wasn't ready to stop this journey!
Whitney's mentorship helped me get in touch with what was truly ME, instead of what I've been taught or told I am. Some pieces may not be pretty, but you have to be able to acknowledge, accept and release those pieces that don't resonate with the "who" you are destined to be. Aligned gave me tools and a supportive place to go while I worked through some of the less attractive stages of growth.
I've always been a "push through to the goal" type person. This has really taught me my only goal should be that I'm a better, happier, healthier and more connected human tomorrow than I am today and ENJOY the path!
I love the accountability in this program and what the next monthly theme or channeled messages will be. It's so exciting and motivates you to do the work you need to do, so that you're ready for whatever gems Whitney is going to drop!
If you are SERIOUS about leading a life connected to spirit, gaining the tools to help you find and live your true life purpose, and be unapologetically authentic… This is where you need to be."
— Chandra Arrington, Packaging Engineering Manager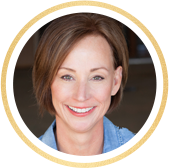 Stop playing small and start living BIG, like Shari…
Before joining this program, I was a HOT mess. Even though I knew I had intuitive gifts, I've had no formal learning or working on increasing my abilities and the information I gained in Whitney's Intuitive Tribe group helped me to realize how far I had come and how far I still had to go, which is why I joined Aligned with complete confidence in Whitney!
I was so excited and knew I was going to reach heights that I never thought possible — while helping others do the same.
It has turned out to be so much more than I ever thought possible. Between the hot seats, spiritual play dates, new meditations, guest speakers, Q&A's — it's all exceeded my wildest expectations. I can't speak highly enough of Whitney, her staff, the group and everything I've learned. When we get monthly messages from spirit, it's as though Whitney's guides are speaking directly to me and every month's topic seems to be exactly what I need at that time. It's AMAZING!
Working with spirit I have taken my life from a toilet in Arizona to living large in Florida. I have increased my intuition, let go of the control and I now collaborate with my spirit guides while seeing my manifestations take form. I know when I'm in or out of alignment. I am retaking my power and finding my voice. I regained confidence. I know that I am living my life purpose!
If you're not living the life you dream of, for whatever the reason and you want to, this is the group for you. Seriously, my life has completely transformed in the last year and a half. I wish everyone this success and happiness. It's amazing.
I cannot speak highly enough of Whitney. She truly is living her purpose in helping people transform their lives. She leads by example. She's real. I love her and I am so grateful for her!
P.S. Not everyone in your life will understand your journey of growth and spiritual enlightenment and that's okay. Some people will dislike it so much that they will choose to walk out of your life. Let them go. It's okay. Surround yourself with people who get you and understand where you're going.
— Shari Roberts, Entrepreneur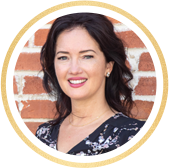 And finally, strengthen your gifts *and* your confidence in speaking to your guides, like Danielle did.
Before I enrolled in the Aligned membership, I was searching to find answers to understanding and developing my spiritual gifts. The amount of information out there was so confusing and overwhelming! I knew my spiritual alignment was off… But I didn't know what was wrong, or how to fix it. I was looking for insight, guidance, and community but could never find anything that felt like the "right" place for me.
Finding Whitney and the Aligned program was a tremendous relief! I felt like I'd finally discovered the community and mentor that I had spent months searching to find. It's amazing how far I have come since I joined!
The program has helped me to discover part of myself and the spiritual world that were new to me (like astral travel and channeling messages from spirit). My gifts are strengthened and my confidence has increased, and I was so grateful that I could turn to the Aligned community to ask about everything I've experienced.
I am still always surprised at how much my Spirit team is a part of my daily life and are sending me messages. I love that I have a regular practice to increase my understanding of spirituality and to grow my gifts. It's so liberating to know that there is a set plan for me and all I have to do is show up and participate.
This program is hands down the best way to grow your spiritual gifts, increase your understanding of spirituality, and be part of a community that offers positivity and support.
If you want to take your spirituality to the next level, the Aligned program will get you there!
— Danielle Cox, Life Coach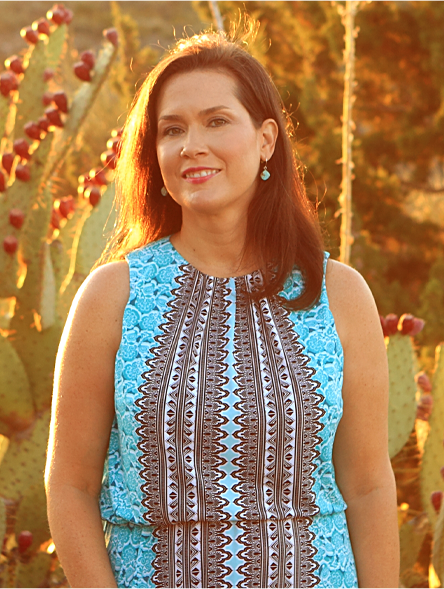 Let me say this upfront.
ALIGNED is the most consistent, supportive, program to up-level your spiritual growth and intuitive skill set with live interaction and support from me.
Our community is filled with committed, helpful, motivated, inspiring, and super-supportive members who are all wanting to connect to enhance their intuition, manifest aligned opportunities, and move forward in their spiritual journey.
When you join, you'll have access to the entire program and can jump right into getting started!
We have a great group forming bonds in Aligned, but if you want to cancel (quarterly members can cancel after their initial 6 month commitment), just email us at [email protected] prior to 7 days before your next billing date and we will remove you from your current membership.
Note that at no point in time are refunds offered and you will not be charged after any cancellation.
How do I
really

know if this mentorship is the best fit for me?
It's important that you take this journey only if it's in alignment (too much? I can't help myself) with where you're at
This mentorship is NOT for you if…
You're in the beginning phases of your spiritual journey and feeling unsure of how to get started and don't have an understanding of intuition and / or  Spirit Guides. (P.S. Keep an eye out for when Intuition Abundance Academy opens — that's perfect for you!)
If you're just curious and not really interested in committing to your spiritual growth. (You can totally treat Aligned as a spiritual buffet, consuming when you feel hungry, but we are looking for ambitious souls serous about their intuition and spiritual alignment.)
You don't feel ready to consistently commit to your spiritual alignment for a minimum of 6 months
You don't dig keeping spiritual conversations raw and unfiltered. (This isn't the right mentorship for you if your feathers get ruffled when I drop an F bomb.)
You're only interested in "taking" instead of providing reciprocal support to your fellow mentorship members (we're all in this together, and there's a real energy exchange when we move through this work collectively)
This mentorship is absolutely for anyone who…
Understands the concepts of connecting to their intuition and Spirit Guides.
Feels ready to implement their spiritual knowledge and uplevel their life
May have experimented with other spiritual resources (and even manifested, too!)
Senses that they keep coming up against energetic blocks or like something is just "off" when they try to connect with their spiritual self
Wants to move through their next powerful life transition or their life purpose with greater spiritual strength and support
Desires a connected, conscious community where they can truly be themselves and let their woo-woo flag fly
Feels comfortable expanding beyond their known limitations (AKA if we start talking about galactic beings, you won't run away)
Knows they have to visit the dark, messy parts within to do the work, in order to align themselves – exposing light on the shadow parts is important
If it sounds like this is for you — I'd love to see you join me inside ALIGNED.
If you're still wondering if this program is *right* for you, I'm an open card deck. Go on, pick one.
What's the cancellation policy?
If you're a quarterly member and wish to cancel after your initial 6 months, send an email to [email protected] 7 days prior to your next billing date. (There are no refunds.)
If you're a semi-annual or annual member, send an email to [email protected] 7 days prior to your next billing date. (There are no refunds.)
You will have access to your content and member's area *only* while you are an active member.
What if I can't show up live?
We always recommend to show up live if you can, but we realize not everyone will make it. We record all of the training sessions and upload them into your member's area. Though we want you to be committed to the group, we don't want you to feel like you HAVE to attend every single thing. Look at it as a spiritual buffet – you get to consume what you want!
How can I get one-on-one support with Whitney?
Aw, thanks for asking! You can get your personalized questions answered by me through the LIVE Q&As.
This is a group mentorship and you can apply to be in the hot seat during our group mentorship calls for more personalized support with me. It's having a 1:1 experience in front of the group!
What if I can't watch all the monthly content at once?
No worries! As long as you're an active member, you'll have access to our private member's area where you can dive into the content anytime you want.
Do I need any prior intuitive training to join?
This program doesn't teach intuition — it simply enhances what you already know. As long as you have a good understanding of your intuitive language and are familiar with the concept of or communication with spirit guides, come on in.
Do I need a Facebook profile to join Aligned?
Smart cookie! No, you don't — while we recommend staying connected to the Aligned community in our private Facebook group, you can still access all our content and call recordings in the private members area with your login.
How much time do I need to commit to Aligned each month?
That's 100% up to you! As long as you are a member of Aligned, you will have access to all the training so you can go at your own pace. If you can't make the live training or Q&A, they will be recorded for you to watch later! We recommend setting aside at least 1 hour a week (or 4 hours a month) to make the most of it.
What times are our live calls?
Our Channeled Messages are the first Tuesday of the month and are live or pre-recorded. If live, they are broadcasted into our private Facebook group at 11am Arizona time and are recorded and uploaded into your member's area!
Our hot seat calls will be during the second week of the month on Tuesday,s 11:00 AM Arizona Time. You must show up LIVE to the hot seats in order to get your questions answered. Hot seats are held in our private Zoom room where you'll get 1:1 access to Whitney live, in front of our group.
Our Spirit Surprise sessions are the third week of the month and can be live or pre-recorded. Our live sessions will be through Zoom on the third Tuesday, and the time we meet varies between 11 AM and 4 PM Arizona Time.
Our live Q&A calls will be held during the fourth week of the month Tuesday, 11:00 am Arizona Time. You will be able to submit your questions beforehand (and all month long) and I'll answer them during our group Facebook Live session (no worries if you can't make it — I'll still ensure your question gets answered! If you aren't on Facebook, we upload the recorded sessions to your member's area.).
How is this different from Intuition Abundance Academy?
Intuition Abundance Academy is a 90-day program designed to teach the foundations of how to clearly receive your intuitive messages from spirit guides, align with your life purpose and manifest abundance.
ALIGNED is an ongoing group mentorship program for people who *already* have that foundation and are serious about implementing their intuitive knowledge from programs like Intuition Abundance Academy. In ALIGNED, I hold consistent space for your implementation and mentor you along the way, with clear action steps towards your spiritual goals.
I often get asked, "What's my next step, Whitney?" after students complete a foundational program in spirituality or know they are further along on their spiritual journey?
If that's you — ALIGNED is your perfect next step.
Am I a good fit for Aligned?
If you've studied with me previously — absolutely. If you haven't— just simply having the foundational knowledge of your intuitive language and a willingness to go deeper into this work (so that you don't get overwhelmed by all the energy empaths like you tend to absorb!), Aligned is perfect for you.
I know there's a *lot* of goodies in the program… Can you recap everything that's included?
You caught me — I overdeliver. And there's SO much in Aligned that even the telepathic intuitives can't remember it all 😉
Keep on scrollin' to get a quick recap of what's inside…
Apply for ALIGNED today and receive:
Apply for

 ALIGNED 

today and receive
:
The Aligned Foundation Success Path Modules: Understand & Identify Your Unique Phase of Spiritual Growth  
The Aligned Success Path Tracker: Hold yourself accountable, set your intentions, reflect, and take action towards your life purpose, abundance, manifesting, and intuition.
Weekly Exercises & Lessons: Channeled Messages, Group Hot Seats, Spirit's Surprise Sessions (Guest Experts, Intuitive Play Days, Extra Hot-Seats), Live Q&As 
Monthly Themes & Printable Affirmations: A New Spiritual Focus & Affirmation To Keep You Grounded 
Monthly Guided Meditations: Channeled, Energy-Infused Meditations To Strengthen Your Monthly Spiritual Focus 
Access to Whitney during the live sessions! (Value: Priceless. Whitney doesn't take private appts.)
BONUS #1: Private Aligned Facebook Community ($497 Value) 
BONUS #2: Accountability Program Group and/or 1:1 Partner ($997 Value)
BONUS #3: Listing/Access to the Aligned Directory ($97 Value)
BONUS #4: Access to Previous Months inside Aligned ($1500 Value)
BONUS #5: Group Spirit Circles 4 times a year! ($597 Value)
Take a peek inside to see what our members are saying…