Is It My Ego Or Intuition?
Is It My Ego Or Intuition?
"How do I let go of my ego so I can listen to my intuition more clearly?" is a question every student has asked me at some point. It's helpful to let go of control and expectation when receiving intuitive messages, but you can't fully remove your Ego. We actually need our Ego to help us maintain balance in this earthly body. Our Ego gives us common sense and helps us stay grounded – so we definitely need that. But unraveling the "control freak" within us can be a process. We have to rewire the way our brain processes information. Set Aside Time JUST For Your Intuition.

If you don't, then you're gonna stay hella confused and wonder if it was your mind making it up, or if it was a message from your Spirit Guides. If you set aside time JUST for Spirit Guide communication you will successfully do two things. 1. You're training your brain and Ego to let go during that time so the messages can flow more clearly; and 2. You are setting a healthy boundary with your Spirit Guides and letting them know the appropriate time you will be available to accurately receive their communication
Clear Your Mind
We often find resistance in clearing our minds. When we try, we get a, "Oh Sh!t I forgot to get the groceries" thought. Sometimes our bodies fight clearing the mind because we feel "lazy" if our brain isn't active. I recommend writing out all the things you need to do beforehand and simply say, "I give myself permission to clear my mind. I promise I'll come back to this list later."
Be Consistent In Your Intuitive Exercises
This one is a biggie!! If you're training to run a 5K, you're probably going to exercise to train your muscles, right? Your body starts to step up it's endurance. The more consistent you are with your intuitive exercises, the more you will build up your intuitive "muscle" so you start to understand how the messages come in. This creates an avenue for the intuitive messages to become regular – not just by happenstance. You'll start to recognize what they feel, look, sound, and are like for you personally. Investing in an intuitive course or group is so helpful. You can get on the waiting list for mine, right here.
Write Your Intuitive Messages Down Or Record Them
When your Ego starts to see that your intuition was correct, it'll start to simmer down. But, unless you're actively maintaining your intuitive exercises, it will still want to control things. One way to ensure you get validation on your messages and give your Ego a clear signal it's not in charge is to be sure and document your intuitive messages. When a thought comes in that you feel is a message from your Guides write it down in a journal or record it on a voice app on your phone. This way you can go back at some point in the future and review the messages you receive to see if in fact it was an intuitive hit. Validation of this nature increases your confidence in the messages you receive and further quiets the old Ego.
Find Support
A support group and/or mentor is extremely helpful. If you're around people who don't understand intuitive, spiritual, or metaphysical talk, it's going to be harder to trust yourself. Getting on Zoom with a friend or fellow student and practicing your intuitive exercises helps you receive validation that indeed you ARE getting your messages! (We do this inside of our intuition class. Click here to join the waitlist.
Ready for MORE??? Join me Sept 14-16 @ 11am PDT for our Intuition and Spirit Guide Challenge.
SIGN UP HERE: MESSENGEROFSPIRIT.COM/SIGNUP
Until then, if you'd like to learn more about your Intuitive Type….
Wanna know the primary way you get messages from Spirit? Take our "What's Your Intuitive Type? Quiz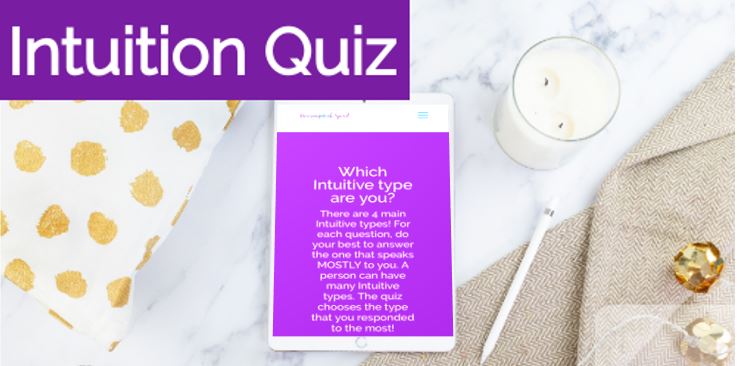 Please follow and like us: