Sedona Intuitive Development Workshop
Learn Your Intuitive Language
Intuitive Development Workshop Sedona
(Beginner or Intermediate Students Welcome)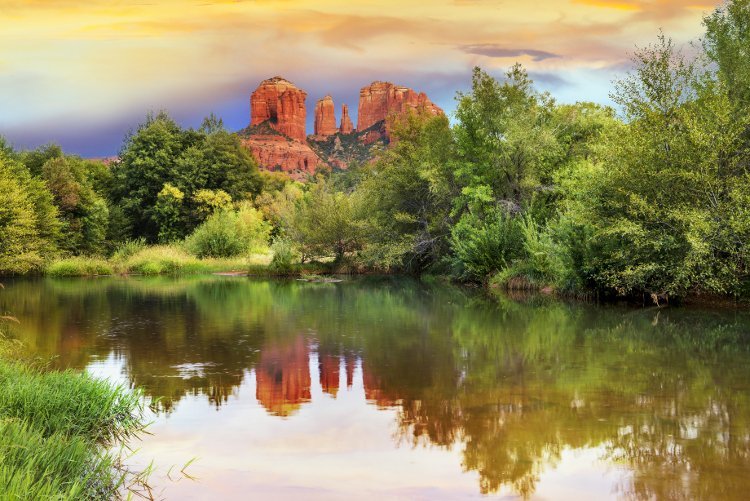 (Cathedral Rock, a place you may consider exploring outside of class times.)
April 7 & 8, 2017
Times:
Friday April 7: 10:00am – 5:00pm*
*On Friday, April 7, We will break for lunch between 12-2pm during which time the facilities will close. There are two popular Sedona restaurants a few feet away from our location, within walking distance! *
Saturday April 8: 10:00am – 1pm
(pictured above: November 2016 Intuitive Development Retreat)
Location:
31 Bell Rock Plaza, Suite A
Sedona, Arizona 86351
Cost:
$275/ person. Please contact me for availability.
Develop your Intuition and increase your mediumship and psychic abilities with Certified Medium Whitney McNeill in this Sedona Intuitive Development Workshop. Our intention & sensitivity are amplified by being in Sedona, Arizona ~ full of vortex sites and healing energy allowing for deeper integration of your experiences. This is a fun, experiential workshop!
This course will offer :
Who your Spirit Guides are and their roles in your life
Find, Explore, & Develop your unique way of Spirit Communication
Develop Clairvoyance, Clairaudience, Clairsentience, Claircognizance & more
Information about the Chakras
Aura Protection & Cleansing
Introduction to Mediumship / Loved Ones in Spirit
Exercise your Intuitive Abilities with others
Group Astral Travel Opportunity
Engage in delivering messages to others
Becoming more sensitive to Energy!
Connecting with & seeing Auras / Energy
Get to know your own Energy vs. Energy of Others
Views from the Office & Classroom:
Things you need to know:
The classroom is located within walking steps of popular Sedona restaurants

We recommend you bring a pencil and paper, and water to stay hydrated.

Meals & Lodging are not included, however we will be happy to assist you with recommendations and information for your stay!
Registration Required:
Register Here Online to confirm your space in the class. You can also contact us by email, send a form online, or alternatively by phone 520-775-2598 * Alternatively, we can send an invoice by email, credit card by phone or in-person.. Please review our cancellation policy prior to registering. 
*Cancellation prior to 60 days before start date of event, class, or program, registrant will receive 50% credit applicable to Messenger of Spirit, LLC  events, classes or programs valid for 180 days from issue date. Cancellation for any reason within 60 days of the start date of class, event, or program is non-refundable and not subject to credit.
Facilitator Bio:
Whitney McNeill
Whitney is a Certified Medium, and has undergone extensive training in the Spiritualist Mediumship style. Her passion for mediumship led her to teach and facilitate Mediumship, Intuitive Development, Reiki to others and has students on the East and West Coasts. Her instruction style is direct, clear, and encouraging. She co-founded a Spiritualist church in Greensboro, NC where she served as President for 2 years. Prior to relocating to Sedona, AZ to offer more Spiritual Retreats, she hosted a weekly radio show where she would engage in live on-air readings for callers. Whitney has traveled to many locations, offering workshops, events, inspirational speaking, and readings. Rev Whitney has been a guest Medium in LilyDale, NY. Her current client base is world wide, and offers phone, Skype, and in-person sessions. She teaches mental mediumship, however has experience with physical mediumship and trance channeling.
Tentative Schedule:
1st Day Schedule:

10:00am-12:00pm – Program

12:00pm – 2:00pm – Break for Lunch

2:00pm – 5:00pm Program

2nd Day Schedule:

10:00am – 1:00pm – Program