Are You Blocked Intuitively?
®®

Are You Blocked Intuitively?
Many times when we feel blocked intuitively it will show up as statements we make about ourselves such as; "I'm not intuitive at all!" or "I just can't get anything from my Intuition.". First of all, you are intuitive no matter who you are and you can grow your Intuition and become more sensitive to it. The way to grow intuition is by showing the desire by starting to read books on the topic, take classes, listen to blogs (wink, wink), and maybe most importantly, beginning to communicate with your Spirit Guides letting them know you are interested in receiving their messages more and more. If you feel blocked because you think you are not intuitive at all, you may actually be a Channeler. Channelers don't see spirit, they don't hear spirit, nor do they feel spirit energy. Channelers simply know and do, because messages channel directly through their body. If you are interested, you can learn more about and find out your specific intuitive language

®

by taking our quiz at MESSENGEROFSPIRIT.COM/QUIZ

Let's look at a couple of the most common reasons you may feel blocked intuitively:

YOUR INTUITIVE LANGUAGE
®

CHANGING CAN FEEL LIKE YOU ARE BLOCKED INTUITIVELY
Your Intuitive Language

®

can change throughout your life. As time goes by, our vibration and the frequency of our energy changes. As we age, our body chemistry changes as well. Therefore, consistency in talking and working with your Guides can help you work through it. One thing you must realize though, is that if your body or energy is going through changes you may not be able to expect that your messages will come in just as they always have. When your vibration, energy, or chemistry shift, so may the manner in which your intuitive messages are communicated. Relax and allow yourself to perceive. Imagine you toss a ball out to your Spirit Team and give them permission to send the ball back and allow it to happen. Now you are not waiting, searching, anticipating. Instead, allow it to come in its own time and be open to simply receive it when it does, and in whatever form or fashion it comes.
A LACK OF TRUST IN THE MESSAGES CAN FEEL LIKE YOU ARE BLOCKED INTUITIVELY
If you feel you are blocked, sit back and allow yourself to receive and stop expecting. Whether you are expecting when the message will come in, how it will come, or even what the message will be doesn't matter. The opposite of expectation is TRUST. Trusting means you release control of the message and know that Spirit will give you the message in the best way for you right now and at the exact time you need it. When the messages don't come in as expected we begin to have a lack of confidence in our abilities. We think we are doing something wrong, it must be our fault, that we are the ones who are screwing it up. When in fact all we really need to do is just LET GO! Release those expectations and trust Spirit. Allow them to choose the method and the timing. Just sit there in a comfy chair with your catcher's mitt, ready for that ball when they toss it back into your court.
Essentially the main reason we feel blocked intuitively is that we are too much in our own head and want to control, versus letting go and shifting our energy to be open to receive the messages as they come.
IF YOU ARE CURIOUS ABOUT WHICH IS YOUR INTUITIVE LANGUAGE
®

…
TAKE OUR FREE QUIZ AT MESSENGEROFSPIRIT.COM/QUIZ
5 DAY FREE TRAINING COMING IN MAY
OUR NEXT INTUITION ABUNDANCE CHALLENGE BEGINS MAY 17TH – SAVE THE DATE!!!
Wanna know the primary way you get messages from Spirit? Take our "What's Your Intuitive Type? Quiz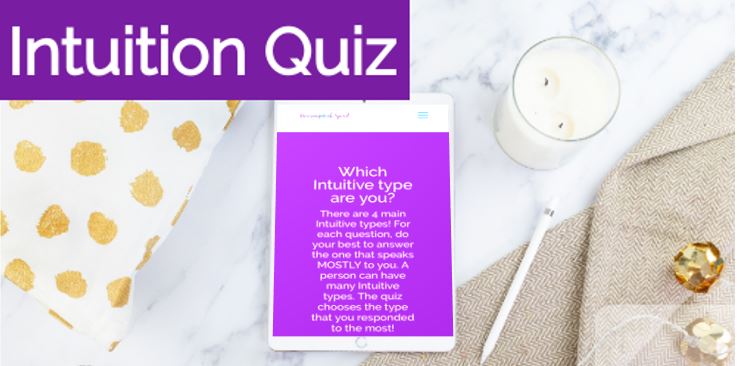 Please follow and like us: