How to Get Clear Intuitive Messages
How to Get Clear Intuitive Messages
Wanna know how to get clear intuitive messages? You're not alone. Maybe people feel like they can't get an intuitive message during times of stress.
In order to get clear intuitive messages, you HAVE to develop your intuition to make it work for you. It doesn't just happen when it happens.
By developing your intuition and your relationship with your spirit guides, it will keep you from feeling out of alignment when you get knocked off your course. You will have your "team" behind you, supporting you. 
Life circumstances can block us from understanding how to get clear intuitive messages  when we aren't connected to our Spirit Guides:
Marriage not working out

Unexpected work issues

Car troubles

Severe weather or disasters

Illness
If you encounter something big that has the possibility of derailing you, sometimes other things tend to drop off, like self-care, 
This year especially, it's even more important to dive into self-care.
Make your intuition a priority.
It will give you the time to develop your intuition and relationship with your spirit guides, which will help keep you balanced when faced with challenges or choices. 
Now I am not asking you to do it all day, every day. But make it as consistent as possible. Even 5-15 minutes a day can make a difference.
You may not always get strong feelings of intuition. Maybe you're more of a "seer". Maybe you hear it more than a feeling. It all depends on your intuition type.
You can find your intuition type here to learn more about developing your relationship with your spirit guides.
If you want to learn how to get clear intuitive messages during times of turbulence in your life, talk to your spirit guides and ask.
Usually in about 3 days, they will get back to you with a yes or a no. 
If you don't get a strong yes or no, it may be up to you. Your guides may be leaving the choice in your hands. If you don't get a strong no, then it could be an option! And If you don't have a clear yes, then look at what you're willing to do in the situation and what result you're hoping to get out of it. 
Ask your Spirit Guides, "If I say yes/no to this, what is the energy surrounding the outcome?" This can help you make your decision.
You have 100% responsibility of your life choices.
Our Guides are not going to tell us every single thing in our life. If they did, we wouldn't really have a say in our lives. They design our lives and opportunities around us to help us. 
In an immediate danger or highly emotional situation, you will normally get a clear answer right away or your body will just react. Typically, if we are spending the time to develop our relationships and intuition, we usually avoid these situations.
But life does happen, and we may be faced with more than we planned on.
If you're feeling very emotional about something, it is a good time to talk to your spirit guides and ask for a sign. If you have all this emotion happening outside of your body, you are creating a thicker barrier that needs to be lightened.
Here are some ways you can talk to your Spirit Guides in turbulent times:
Ask for a tangible sign

Ask for communication in dreams

Clear your mind – lighten your vibration

Give your self grace

Rest and relax
Stay connected to your Spirit Guides and Intuition.
Communication may come through someone speaking with you, number patterns or something similar. 
Recently, I went through a situation where a fire was close by. I asked my spirit guides to help, and I came to an answer, but the answer also had elements around it. I knew that I had a 90% chance of things being ok, and a 10% chance that if things shifted, the whole scenario could change. So I packed some things up in my car, and trusted in the 90%.
Allow yourself to release any of those heavy emotions that are going through. 
Connect to your Spirit Guides on a daily basis.
If you're getting ready to do something new or taking a trip, make sure you listen to the feelings you're having. Your guides may be giving them to you so you can learn a lesson, investigate your options, or make a clear decision.
Sometimes when it's not clear, remember it's your decision. Pay attention to your feelings and be open to hearing from your guides. Once you understand the way they communicate with you, you will be able to move forward with confidence. 
If you aren't clear on your intuition type and want to learn what it is for you, take this quiz to find out!
What's your Intuitive Type Quiz
Don't forget to join us for this exciting challenge in celebration of the opening of the Intuition and Abundance Academy. There is a 5-day challenge (with the opportunity for prizes!) beginning September 14th. It's free to join us!
Questions? Contact us here.
What's your intuitive type? Take the quiz! right here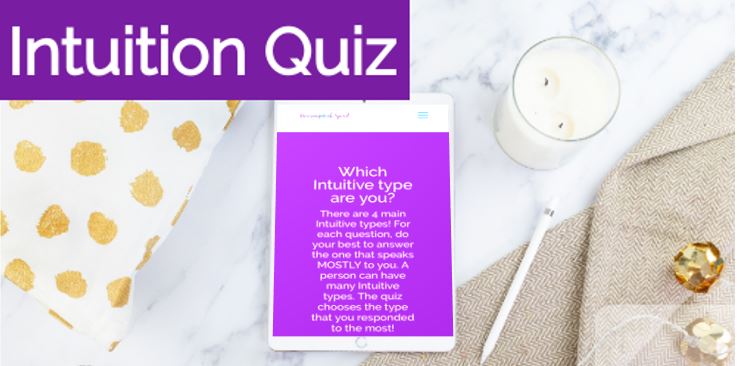 Kickstart your intuition right here through monthly meditations, channeled messages, and affirmations.
Please follow and like us: