Empathic Tools for Transformation
 Empathic Tools for Transformation
2020 has been an interesting year, am I right? It has shaken things up and, if you're empathic, it might feel very overwhelming and heavy. Do the current circumstances have you asking, "How can I manage my empathic sensitivities?"
If so, here are a few empathic tools for transformation that can help:
1) Be Your Authentic Self
It's OK to be you!  You don't need anyone's permission to be authentic.  Empaths tend to find themselves in environments and situations where they are pleasing other people.  Even though we may love it, it can create an imbalance in our energy.  The way we interpret energy and recharge is unique to each of us. It's OK to say no and maintain our energy boundaries. Creating boundaries is one of the best empathic tools for transformation you can use! Empathy can become our super-power when we are able to bring it forward in a healthy balanced way.
2) Take Time Off to Reset Your Energy
This doesn't have to mean an extended vacation (although it's wonderful when it can and I highly recommend it)!  But in our daily lives, it can be as simple as unplugging from social media, turning off television, or even muting our phone for a short period.  As a result, this may trigger guilt, but it is ok to take time to devote to your own wellbeing.  Empaths can find themselves in relationships that are more one sided and may need to pull back for a short period to rebalance. As a result from taking time off, you are able to come back rejuvenated and ready to be fully present for others. Unplugging from the things that drain your energy is one of the best empathic tools for transformation to apply.
3) Clear Your Energy
Find the method that works for you.  You might choose saging, tingsha bells, energy work, or simply taking a walk out in nature.  Find a way that resets your own energy so that your aura only holds your energy (not the energy from other people.)  
4) Essential Oils can Uplift Your Energy
Sacred Frankincense can help clear the energy in your space. Tree tree oil, mixed with a good carrier, can be used directly on the body to help block heavy energies.  My preferred oils can be purchased at messengerofspirit.com/oils.  They have special oil blends specific to each chakra as well as the sacred frankincense. Please check with a Doctor or Certified Aromatherapist to see which oils are right for you.
5) Crystals can Buffer Negative Energy and EMFS
Different crystals can be used for different purposes.  For instance, Aragonite can be used to block EMF, while Himalayan Salt can transmute negative energy into positive. There is scientific research behind how this is possible if you'd like to learn more, there are many books, crystal encyclopedias and websites to help you learn about the types of crystals and what they can be used for.  But most importantly, choose a crystal that you're drawn to and ask that crystal if it would like to work with you. Crystals can be wonderful empathic tools for transformation to block out negative energy and maintain a peaceful environment.
6) Meditation as and Empathetic Tool (And I've got a free one for you!) 
There are 3 types of meditation:
Moving Meditation: Walking outside, dancing, cooking can all be used as meditation.  Any repetitive motion that helps you release energy.
Sound Meditation:  Ambient sound, crystal/singing bowls, healing frequencies are all types of sound meditation that you can listen to anytime.
Guided Meditation:  In a guided meditation, a facilitator "guides" you through visualizations to create a state of relaxed concentration intended to help you achieve healing and stress relief.  These can even be used right before bed to help you relax and fall asleep. 

I've created a free guided meditation to help you get started.

You can download it here.
SAVE THE DATE: 
Dec 9th 3pm PST/6pm EST 
I'm teaching a LIVE Empathic Workshop to help you turn your Empathic skills into your Superpower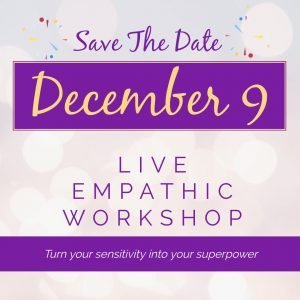 Questions? Contact us here.
What's your intuitive type? Take the quiz! right here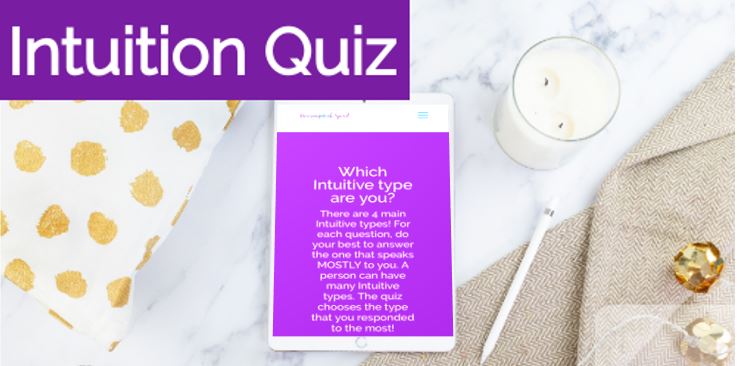 Kickstart your intuition right here through monthly meditations, channeled messages, and affirmations.
Please follow and like us: