7 Unconscious Ways We Block Intuition & Abundance
7 UNCONSCIOUS WAYS WE BLOCK INTUITION & ABUNDANCE
Although when we are awake (conscious) and our brain is active we feel like we are aware of everything, there is still that one piece we don't really give much thought to. Our brain may be awake, but somewhere in the background there is still that part of the brain that continues to "sleep". It's the unconscious (subconscious) mind. It is in that part where these 7 Ways We Block Intuition & Abundance reside.
Here are 7 Unconscious Ways We Block Intuition & Abundance…
UNCONSCIOUS BLOCK #1 IS WE DON'T WANT TO HEAR THE MESSAGE
Subconsciously we may be afraid the answer will not be something we want to hear or want to deal with. Although we may be asking for guidance or direction on some of those BIG life changes (relationships, careers, children), we can indeed still be wary of what the guidance will be, our ego doesn't want to hear it, and therefore we block it all without realizing it
UNCONSCIOUS BLOCK #2 IS WE FEEL WE'RE NOT IMPORTANT OR GOOD ENOUGH
If we don't have a healthy self-worth then we may block the intuitive messages by feeling we don't deserve to know or that we're not good enough to take the risk it's leading us toward and succeed. Alternatively we may block abundance with the mindset that if I'm helping people and doing spiritual work that money is not the important thing. Money is energy, just like the help you provide is energy you expend. Energy can't constantly flow in one direction, eventually the circuit has to be completed to maintain the flow.

UNCONSCIOUS BLOCK #3 IS FEELING RESISTANCE BASED ON LEARNINGS FROM CHILDHOOD
To truly be connected to our intuition we need to remove the unconscious block of certain "lessons" that may have been inserted into our subconscious at an early age. For instance, if we continue to hold the belief that intuition does not align with the religion your family practiced and is therefore "bad" , we could be receiving intuitive guidance all the time but block it out because we never recognize it as such. We are all intuitive, it's not a gift only the "chosen" few have. We all also have muscles, but it's the people who work them, feed them, and grow them that are the strongest. The more you use intuition and pay attention to the unique ways it shows up for you, the stronger and more abundant it will get. If we all have it and not all of us are bad people, then we can purge that unconscious block we've been carrying around and stop allowing it to hold us back
This same unconscious type of block can also affect our mindset around financial abundance. Did you learn as a child that money is the root of evil or that rich people are snobs and don't want to be associated with you? Those seeds planted in the subconscious during childhood can create the unconscious block that shows up later in life. You could block money coming in so you'll continue to be a "good person" or so that people don't assume stereotypical personality traits about you that aren't true.
Eventually, as you become more cognizant of these limiting beliefs that unconsciously block your flow, it's possible you may discover that the thing you've blindly assumed was true since an early age is actually NOT how you really feel at all. If you're considering all the good you could do in the world and all the people you could help with an abundance of money, then you really don't feel its intrinsically evil. Those realizations allow us to let go of the limiting beliefs blocking all the abundance the Universe wants to send our way.

UNCONSCIOUS BLOCK #4 IS THINKING INTUITION & ABUNDANCE HAVE TO COME IN A CERTAIN WAY
TV and movies portray a fictitious version of what intuition and being intuitive means. In that world everyone connected to Spirit is a psychic medium and walks around seeing and talking to spirits all day. Although some people may actually get their messages this way, the vast majority do NOT. If we continue to believe that is the ONLY way it will ever come in, we are unconsciously blocking all the other magnificent ways our Guides, our Higher Self, and the Universe communicate with us. The more you learn and develop your specific intuitive language

®

can eliminate that limiting belief and open up all the avenues to your intuition abundantly.
The same is true for financial abundance. Being tied to a specific method of how the money will come in or what outcome will produce the abundance is a sure way to unconsciously block the flow. Thinking it will only come by you working harder, your spouse getting a raise, or a highly unlikely winning lotto ticket you impose limits that don't actually need to be there.

UNCONSCIOUS BLOCK #5 IS HAVING TROUBLE RECEIVING
Do you believe that because you're spiritually minded that you always have to be in service of others? That unconscious block can cause you push away opportunities. When you block receiving the opportunity, you also block the abundance it may bring. Conversely, being in a constant state of give, give, give or do, do, do (as is the tendency of our ambitious nature), there is no time or space created to receive the new coming in.
The Universal Law of Balance relates to things in equal portion to create balance. If we only give, eventually our cup will run dry and we will have nothing left to give. At some point we must allow the cup to be refilled to be able to continue with the work we want to do. Doing must be balanced with Being. Being is that downtime where we are still enough to just allow abundance to flow to us.

UNCONSCIOUS BLOCK #6 IS FEELING OVERLOADED & NOT IN THE FLOW
By saying yes to too much and taking on more than you can handle we create overwhelm and remove ourselves from the flow of receiving. When we change our perspective, new doors open and new opportunities present themselves. By taking on all the new, but never releasing any of the old, we create imbalance and begin to unconsciously block the flow to get back to feeling more in control. Life happens and sometimes it moves fast and furiously. It is in those moments we turn to our intuition for guides vs trying to do it on our own and shutting down.
Allow your lighter vibration to bring you a different perspective so that you can shift your priorities into alignment with you now. By creating that space to take a broader overview of all the things creating this overload, most likely you will see that some of them no longer resonate with you as they once did and those are the things you let fall away to make room for the new abundance coming your way.

UNCONSCIOUS BLOCK #7 IS FEELING YOU NEED TO DO MORE OR YOU DON'T HAVE THE RIGHT ABILITIES
Being in the flow means making room to receive (balance). Alignment creates a state of being versus doing. Spirit can bring the message and the abundance to you, but to benefit you must be in a position to receive it. We are all intuitive. Some people may be more sensitive than others at the outset, but it is an innate ability. As we continue to practice and flex that muscle our skills will continue to improve as well.
What if you started to recognize the importance of intuition? When you connect things become easier. It can shift things around and make more space to receive, therefore you don't have to work harder or be "on" all the time. What if you made your intuition a priority everyday? It will become your #1 asset, making the things we do daily easier because you view them from a broader perspective. And as your perspective broadens you begin to realize these 7 unconscious ways we block intuition & abundance are no longer the hindrances they once were.
WANT TO KNOW MORE ABOUT YOUR OWN INTUITIVE LANGUAGE?
TAKE OUR FREE QUIZ AT MESSENGEROFSPIRIT.COM/QUIZ
Wanna know the primary way you get messages from Spirit? Take our "What's Your Intuitive Type? Quiz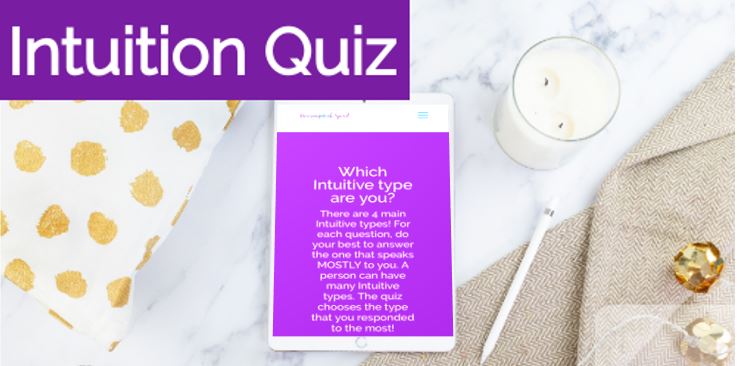 Please follow and like us: